Test User: Occupational, Ability and Personality
£1,750.00 (Ex. Tax)
Test User: Occupational, Ability and Personality - Level 2 has now replaced The British Psychological Society (BPS) Training qualifications previously known as Level A & B Occupational.
Learn how to use occupational testing via personality profiling for interviews and reducing staff turnover.  Most importantly, learn how to administer, interpret and give feedback on psychometric tests and assessments effectively.  In addition gain a deeper understanding of the technical concepts of psychometrics while learning how to use them both legally and ethically.
Most noteworthy, our Test User training is a distance learning course and includes:
65 hour Module-based course.  Complete at your place of work or study at home. Start at any time.
Workbooks, Webinar-based sessions and training videos.
Practical assessment at a venue most convenient to you or via Conference Call.
On-going support from our Business Psychologists and Tutors throughout the learning experience.
CPD Accredit with an award of 65 hours.
Complimentary 'Psychometric Solutions' package included in the course fee and access your own identity personality profiling system.
This Test User: Occupational, Ability and Personality course is Accredited by the CPD Standards Office and includes an award of 65 hours, certificate is included in the course package.
Finally at the end of the course, you will be fully skilled and equipped to deliver psychometric testing and assessment.  We will provide you with an online account to use the identity personality profiling questionnaire also its suite of expert reports.  Furthermore, the course provides eligibility for the BPS Certificate of Competence in Occupational Testing Level 2.  As a result you can also apply for entry onto the Register of Qualifications in Test Use (RQTU).
For further information click here
Overseas Clients wishing to qualify as a Psychometric Practitioner in Test User: Occupational, Ability and Personality.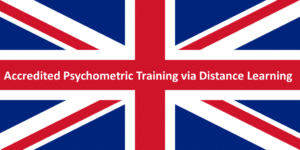 This Distance Learning course can be completed from anywhere in the world.  Furthermore, it is a globally recognised qualification in Test Use
Materials delivered free in the UK, price on application for overseas clients.
Test User: Occupational Classroom Based Course In-House
For organisations wishing to train four or more people, we can deliver a classroom-based course at your premises.  Call us on 01285 861734 to arrange a quote.
What is Psychometric Testing?
To find out more information on what psychometric assessments are and consequently where they are used click here >>>
Development