Test User: Occupational Ability | BPS Training
£750.00 (Ex. Tax)
Psychometrics Training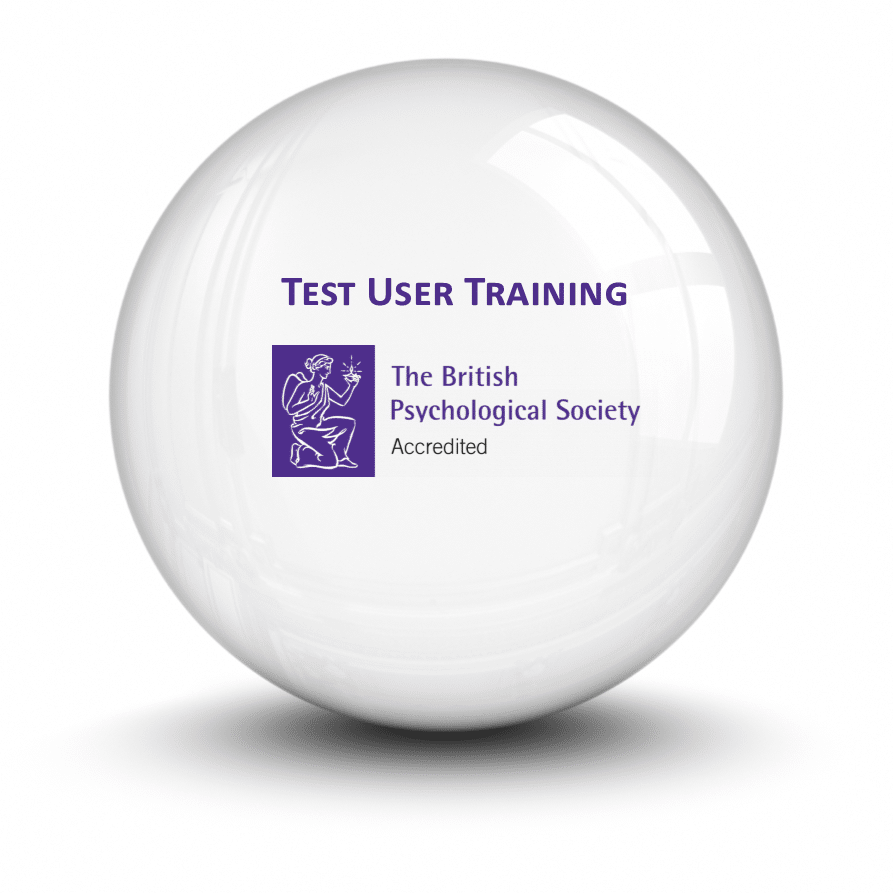 This BPS Test User: Occupational Ability (TUA) Qualification is delivered via our online interactive training platform. The course covers all competencies and standards laid down by the British Psychological Society (BPS). 
This distance learning option includes: module based remote learning, webinar sessions, information videos, coaching and individual support from our consultant psychologists. Support is available throughout your training via telephone, webcam and email.   Interactive exercises, workbook and practical assessments with feedback also help to embed skills and learning.
Learn how to select the correct occupational test for the role and give ability test feedback and make interpretations. The course covers the use of; ability testing, aptitude testing, personality questionnaires and other psychometric assessments.
Eligibility:
This is the second module of the BPS Test User Occupational full qualification in Test Use. Previously known as the (BPS) Level A, Certificate of Competence in Occupational Testing. To enrol on this Test User: Ability course the individual must already have completed Module 1: Assistant Test User
All of Quest Partnership Ltd Test User Modules are registered with the BPS. Certificate of attainment is included in the course price. [Full Course Flyer]
What's Covered
Our psychologists have developed this course based on the competency framework outlined by the British Psychological Society (BPS). It therefore covers all elements of their Test User standard, including:
Occupational, Ability: Learn about how tests work and why they are reliable and valid. You will also learn how to select the correct tool for the role and give ability test feedback and make interpretations.
Topics Covered:
How to interpret and provide test feedback effectively
Choosing the most appropriate test for different purposes
Integrating psychometric data into selection, recruitment and development processes
Giving best-practice feedback to candidates
Using and storing tests legally, ethically and fairly to ensure lawful selection processes
Linking assessments to job success and performance
Providing a deeper understanding of the technical concepts of psychometrics.  These include reliability and validity and will help you evaluate tests' usefulness & applicability.
What's Included
Typically 20 hours (1-3 months) Module-based learning.  Complete at your place of work or study at home. Start at any time and work at your own pace.
Online Interactive Training Platform for Course Content and Workbooks, with Webinar-based sessions and training videos.
Practical Session – 'Live Exercises' with our consultants via video calls to practice administering tests.
On-going support from our Business Psychologists and Tutors throughout the learning experience.
Complimentary 'Psychometric Solutions' package included in the course fee and with your own Identity® Personality Account via our online psychometric solutions platform.
Course Certificate recognised by BPS registered Test Providers.
As a result you can also apply for entry onto the Register of Qualifications in Test Use (RQTU). 
Furthermore, our psychologists will provide ongoing support. This helps to ensure that Test Users continue to deliver according to current best practice.
Orders
Within 1 working day, you will receive both of the following:
An email inviting you to login to our Quest Solutions Training Platform. This will provide you with the full course instructions and your training itinerary. Please check your Spam/ Junk folder.
A welcome email from your assigned tutor introducing themselves and providing details of your support package.
You can check the status of your order at any time from your account area.
If you have any queries, please do not hesitate to contact our friendly customer service team on:
Tel: 01285 861734
Email: admin@questpartnership.co.uk
Why Quest Partnership?

Quest Partnership Ltd has been providing psychometric assessments to industry for over 30 years. We offer independent advice on a wide range of assessments. In addition, we provide full support in administering and delivering tests and personality questionnaires to individual candidates / participants.

Our consultants are experts in their field with a track record of delivering innovative assessments. We are also active members of our industry body, the British Psychological Society (BPS). Our involvement in BPS steering groups has helped to raise standards and promote best practise in the use of psychometrics.